As chief of staff for office of the CEO, Rogers would approve invoices from Human Group for events run for the executive team and board. It is estimated that Human Group billed NAB for more than $110 million over the lifetime of the contract.
By allegedly showering Rogers and her extended family with holidays and cash, the police will allege that Human Group was ensuring the invoices would continue to be approved and the contract would keep rolling.
The two are alleged to then have frittered the money away in a manner reminiscent of Richard Pryor in the 1980s comedy Brewster's Millions. A $180,000 trip to Europe. A $485,000 US holiday. A $245,000 week in Fiji. A $76,000 weekend in Sydney.
Before each holiday Rosamond would often charge up a prepaid Mastercard for her good friend. The bill for that topped $364,139 over four years.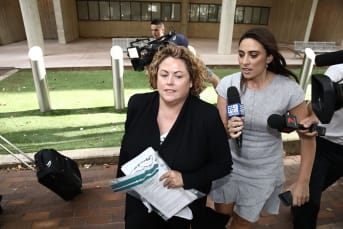 Luxury weekends
The police case is that Rogers received hard cash too, including 15 cheques for $350,000 made out to her and her husband Anthony, as well as a $145,000 via an eftpos transfer.
Rosamond is also said to have given Rogers $380 000 for a house deposit and $468,736 for renovations on Rogers' home. She also allegedly gifted her $172,000 for a BMW and a $46,000 boat. All told, she received $5.4 million worth of travel and cash. But it didn't start out that way. The first example of alleged offending was relatively low-key.
Rogers was appointed chief of staff by Cameron Clyne in 2009. She was known to restrict access to Clyne and dole out favours to those she liked.
By 2013 she was four years into the role and had built herself something of a personal fiefdom. The relationship between the bank and Rosamond's events company Human Group was well established.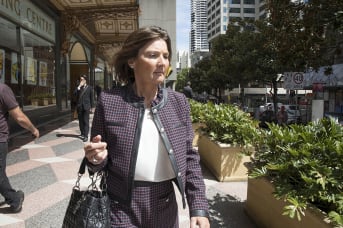 Police allege the first offence saw Rogers arrange a weekend away for two of her family members on the first weekend of February 2013.
The trip was business class from Melbourne to Sydney and two nights at the Four Seasons on the Rocks. The bill came to $4300 and was paid for by Human Group.
Later that month, perhaps emboldened by the success of the first caper, it is alleged that she and her husband drove across the West Gate Bridge from Williamstown and stay in a Tower Suite at Crown Casino at a cost of $1600 a night.
A recipient of a gift from one of the bank's contractors was obliged to record the receipt of any gift valued at more than $300 in the bank's gift register.
A properly maintained gift register ensures that those who receive benefits such as corporate hospitality can do so transparently and in a manner that removes the perception that favours have been granted or owed.
None of the dozens of trips that would allegedly be taken by Rogers and her family were ever recorded in NAB's gift register, allegedly because the person in charge of the register was Rogers herself.
Quick escalation
The chronology of the alleged offending suggests Rogers quickly became accustomed to the luxury travel and accommodation. One month after the first alleged offences, she threw one of the grand bashes for which she would become known within her family.
Police will allege that in March 2013 Rogers celebrated a family member's 50th birthday by flying 13 relatives first class to Sydney, chartering a boat for an afternoon harbour cruise, having dinner at the three-hatted Quay restaurant and then putting the entire party up at the Four Seasons at a cost of $76,000. Human Group allegedly picked up the tab.
Family birthdays were a big thing for Rogers. The following year she would throw a more modest birthday for her dad's 70th. It is alleged that seven people flew to the Gold Coast for three nights at the Palazzo Versace at a cost of $35,000.
Two years later her old boss Clyne had moved on and was replaced by Andrew Thorburn. The birthday of her sister was coming up.
In July 2015 Rogers allegedly arranged for her sister and her husband to fly business class to the Cable Beach Club in Western Australia, known for its L'Occitane day spa, adults-only pool and sunset horse rides on the beach.
The pair would stay for six nights at a cost of $21,000 and again Human Group is alleged to have picked up the tab. Police say bank records show she was partly reimbursed for the trip, although the reasons for this are unknown.
Family members had partly reimbursed Rogers for other holidays she generously offered to arrange. Police say family members made payments to Rogers for a multi-destination trip to Europe for six in 2013 that cost $188,000.
Payments of some magnitude were also allegedly made for Rogers' grand tour of Hawaii, New York and Miami in 2014. The month-long extravaganza included a chartered yacht and a private jet with the bill coming to an incomprehensible $485,000.
Day of reckoning
It is not known how Rogers' family members thought she was able to afford travelling in the manner of billionaires and Russian oligarchs. But after the extravagant US holiday it appears that the exotic holiday destinations were out in favour of holidays closer to home such as Fiji and Queensland. Nonetheless the family's holiday to Fiji was to a privately owned island at an alleged cost of $245,000.
Police also detail trips to the luxury Wolgan Valley health retreat in the Blue Mountains outside of Sydney over the period of the alleged scam with Rosamond allegedly paying $233,527 for Rogers and her family to stay at the health retreat every year over four years.
One of the last holidays Rogers treated her family to was towards the end of summer in 2017. Summers in Melbourne typically extend well into March but the first chills can often be felt by April. Anticipating the coming winter, Rogers arranged for a trip north to Port Douglas.
Rogers would take annual leave for the trip in which she hosted 10 family members.
The party allegedly flew business class to Cairns airport where some took private transfers and others hired luxury cars for the drive to the Sea Temple resort, where villa accommodation is de rigueur and guests luxuriate on day beds next to private plunge pools just a stones throw from Four Mile Beach.
This $71,000 trip was one of the last Rogers would take with her family.
In December 2017 she was hauled into Thorburn's office for questioning over the alleged scam before being allowed to quietly resign. That day of reckoning interrupted another holiday for Rogers but it was for a rather more pedestrian affair than the luxurious experiences she is said to have enjoyed. Rogers had been moving house.